I spent about 12 years working on this book and started studying the Rwanda and Congo wars about 17 years ago.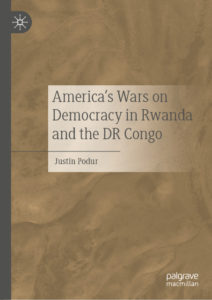 America's Wars on Democracy in Rwanda and the DR Congo is published by Palgrave Macmillan in June 2020. Here's the blurb:
This book examines US interventions in the Democratic Republic of the Congo and Rwanda — two countries whose post-independence histories are inseparable. It analyzes the US campaigns to prevent Patrice Lumumba from turning the DR Congo into a sovereign, democratic, prosperous republic on a continent where America's ally apartheid South Africa was hegemonic; America's installation of and support for Mobutu to keep the region under neo-colonial control; and America's pre-emption of the Africa-wide movement for multiparty democracy in Rwanda and Zaire in the 1990s by supporting Paul Kagame's Rwandan Patriotic Front (RPF). In addition, the book discusses the concepts of African development, democracy, genocide, foreign policy, and international politics.