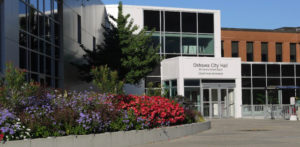 Victoria White is a Planner in the Policy branch at the City of Oshawa. She graduated with an MES in Urban Planning in 2018.
Where do you work and what do you do?
I work for the City of Oshawa and I am a Planner in the Policy branch.
Tell us your work journey after the degree: what went well? What was challenging?
Towards the end of my Masters degree at York University, I started working as a Sustainability Consultant for an Environmental Health and Safety company in Toronto. While this wasn't directly related to urban planning, it was a great opportunity to learn more about sustainability benchmarking and reporting. Several months after I graduated from York, I started working as a Planner for the City of Oshawa. While I was able to find a job in my field relatively quickly, the challenge was that there weren't many job openings available in my immediate area (Toronto) at the time I was looking. In this regard I'd recommend that new or soon-to-be graduates apply to positions in a broad geographic area.
How did you use what you learned? When did you feel like "I wish that they had taught me about this in university"?
From a technical perspective, the Urban Planning program at York well prepared me to work as a planner. York provided numerous courses (e.g. environmental and planning law and urban design) that gave me a solid foundation of planning policies and practices. However, I wish I had learned more about the ins-and-outs of working for a municipality (e.g. staff reports to Standings Committees and Council, processes related to City-initiated amendments to planning policies, etc.).
Thinking back to when you were in high school, what made you want to get into this? How does what you are doing match, and differ from what you thought?
When I was younger I didn't think that I was going to be a City Planner when I grew up. In fact, it wasn't even on my radar. During my undergraduate degree, my ideal career path changed many times and it wasn't until my third year that a professor of mine suggested that I consider city planning. After researching the field, I realized that it encompassed many of my interests (e.g. law, environment, human health, etc.) and decided to pursue the MES (Urban Planning) program at York.
Any other advice for people thinking of an undergrad environmental degree?
There are so many different streams of environmental jobs, which for some, may make it difficult to narrow the focus to one particular career path. My key piece of advice would be to meet with your professors and others who are in the related fields to learn more about their experience and potential opportunities that you may not have considered.