York University recently signed a Memorandum of Understanding (MoU) with Jamia Millia Islamia, so the institutions have an official relationship. There are other similarities I've noticed. The way that York is located at the North of Toronto, Jamia is located in the southeast of Delhi. They're also building a subway here, like at York, so there's lots of construction going on all the time. And to get to the nearest subway station is a bit of a trek (in this case, by 3-wheeler).
Jamia's campus has several charms. Among them is the names of the buildings. Named by former Vice Chancellor and notable historian Mushirul Hasan, the buildings have names that are refreshing to see on a campus. In addition to the Chomsky Complex of buildings, there's also the two buildings I've photographed, below: Edward Said Hall, and Mahmoud Darwish Bagh.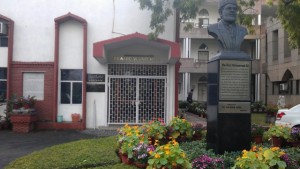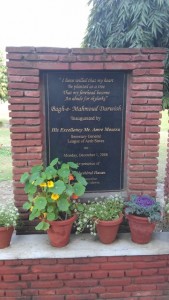 The Maulana Azad Guest House (the Maulana Azad is another very interesting historical figure), next to Nehru Guest House, is where I'm staying. It's a lovely house from the outside, and it also has a very nice view of a pleasant courtyard, the IT building, and the Castro Cafe.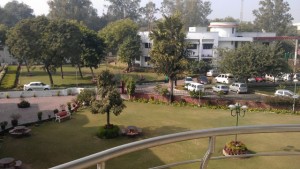 There's much more to see on this campus, and the campus itself has a fascinating history in many ways. But one thing that struck me was the animal life. There are packs of campus dogs that make their home here, not unlike the foxes and others that make their home at York. And like York's Canada Geese, the guest house enjoys the presence of a neighbourhood hawk - actually at least a pair of hawks - that circle the area all day. Here's one of them at rest.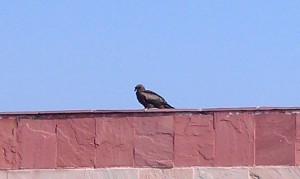 I've just started my teaching schedule, and so far, so good - the students seem very keen and bright, like students anywhere. I might have more to say about teaching in a few weeks.